Une liste de liens suite à  la conférence de Geert Lovink au séminaire de l'Erg.


Je dresse ici une liste d'informations récoltées lors de la conférence « Unlike Us: Social Media–from Critique to Alternatives » de Geert Lovink lors du récent séminaire « Narration spéculative » de l'Erg, le 14 mars 2013.
J'avais déjà  eu l'occasion d'assister à  une intervention de Geert Lovink dans le cadre de l'exposition « Stock Overflow » (2009) de RYBN à  iMAL, Bruxelles (voir ici et ici). Geert Lovink diffuse une réflexion de qualité et des informations utiles pour une approche alternative des nouveaux médias.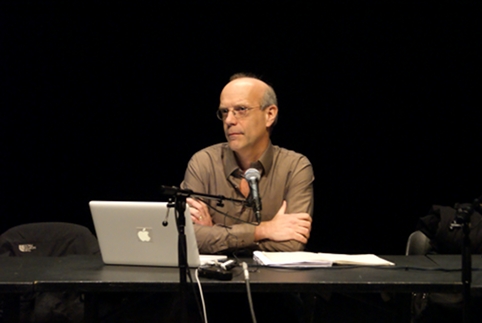 Voici cette liste.
Institute of network cultures.
Institute of network cultures :
http://networkcultures.org/
http://networkcultures.org/wpmu/portal/projects/project-overview/
Unlike Us magazine :
http://networkcultures.org/wpmu/unlikeus/
http://unlikeus.dmci.hva.nl/
Critical Point of View: A Wikipedia Reader :
http://networkcultures.org/wpmu/portal/publications/inc-readers/critical-point-of-view-a-wikipedia-reader/
Society of the query :
http://networkcultures.org/wpmu/query/

SOCIAL NETWORKS : MISC.
Bitcoin, P2P digital currency :
http://bitcoin.org/
ShareMeNot :
http://sharemenot.cs.washington.edu/
https://addons.mozilla.org/fr/firefox/addon/sharemenot/
Give Me My Data :
http://givememydata.com/
Web 2.0 Suicide Machine :
http://suicidemachine.org/
Account Killer :
http://www.accountkiller.com/en/

ARTICLES AND BOOKS.
« Digitale Demenz » (Digital Dementia), Manfred Spitzer :
http://worldcrunch.com/tech-science/does-the-internet-make-you-dumb-top-german-neuroscientist-says-yes-and-forever/digital-dementia-manfred-spitzer-neuropsychiatry/c4s9550/#.UUrjVxmD7-k
« The too frequent use of digital media reduces the mental capacity of our children  »
Psychiatrist and brain researcher Manfred Spitzer warns parents and educators
by Dr Rudolf Hänsel, qualified psychologist, Lindau/Germany
http://www.currentconcerns.ch/index.php?id=2095
Taking Care Of Youth And The Generations, Bernard Stiegler.
https://fr.wikipedia.org/wiki/Bernard_Stiegler
You Must Change Your Life, Peter Sloterdijk.
https://fr.wikipedia.org/wiki/Peter_Sloterdijk
Ästhetik der Interpassivität, Robert Pfaller.
http://de.wikipedia.org/wiki/Robert_Pfaller
The Information Diet: A Case for Conscious Consumption, Clay A. Johnson.
http://www.informationdiet.com/
Net Smart: How to Thrive Online, Howard Rheingold.
http://rheingold.com/netsmart/

FACEBOOK ISSUES.
Reclaim Privacy :
http://www.reclaimprivacy.org/
Europe Vs Facebook
http://europe-v-facebook.org/EN/en.html
Avoid Facebook :
http://www.avoidfacebook.com/
Facebook Cheating :
http://facebookcheating.com/
Facebook resistance :
http://fbresistance.com/
https://www.facebook.com/groups/189135107782024/
Dislike button :
http://dislikebutton.me/
Tobias Leingruber :
http://www.tobi-x.com/
http://occupyinter.net/
http://fffff.at/fb-resistance-at-transmediale-docu/
http://www.flickr.com/photos/tobimcfly/
Saskia Aldinger :
http://saskia-aldinger.com/
Anne Drogyne :
http://m0tei.co.uk/facebookgender/
http://exhipigeonist.net/2013/03/reinstating-the-third-gendersex-option-on-facebook/
Artzilla :
http://artzilla.org/
30-Day Facebook Fast :
http://www.stevepavlina.com/blog/2011/02/30-day-facebook-fast/

FACEBOOK ALTERNATIVES.
Diaspora :
http://fr.wikipedia.org/wiki/Diaspora_%28logiciel%29
http://diasporaproject.org/
http://fr.wikibooks.org/wiki/Diaspora_:_Le_guide_du_parfait_d%C3%A9butant
https://joindiaspora.com/
Status :
http://status.net/
Libertree :
http://libertreeproject.org/
Group:GNU Social/Project Comparison
http://libreplanet.org/wiki?title=Group:GNU_Social/Project_Comparison

À propos de Geert Lovink.
Geert Lovink est un théoricien des médias, critique d'internet et auteur de Zero Comments (2007) et de Networks Without a Cause (2012). Depuis 2004, il est professeur chercheur à l'école de Communication et de Media Design (CMDA), à l'Université des Sciences Appliquées d'Amsterdam (HvA), où il est le directeur fondateur de l'Institut des Cultures du Net. Cet institut traite de sujets tels que la vidéo en ligne, les écrans urbains, Wikipédia, la culture de la recherche, la publication digitale et les médias sociaux. Il enseigne également dans le master des nouveaux médias, à Mediastudies, à l'Université d'Amsterdam, et est professeur de théorie des médias à l'European Graduate School (Saas-Fee).