Le livre de Daniel Schiffman disponible à la bibliothèque de Saint-Luc.

Daniel Schiffman est un artiste du code et un professeur à  la Tisch School of the Arts (New York University). Il publie cette année (2008) un excellent livre : « Learning Processing: A Beginner's Guide to Programming Images, Animation, and Interaction« . La publication de ce livre est accompagnée de la mise en ligne d'un site remarquablement bien conçu, doté d'exemples limpides et clairement commentés.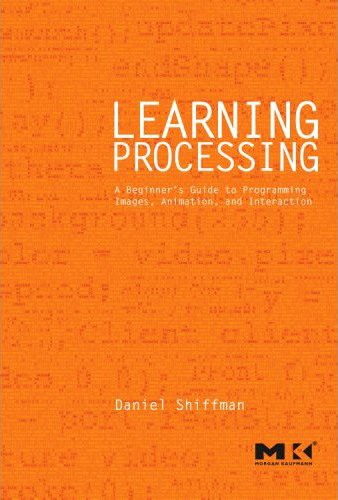 Avec « Processing: A Programming Handbook for Visual Designers and Artists" de Ben Fry et Casey Reas (voir l'article) et « Visualizing Data Exploring and Explaining Data with the Processing Environment » de Ben Fry, on peut à  présent affirmer que la communauté des adeptes de ce logiciel libre et performant bénéficient d'une documentation très complète.
Les bons liens.
Les sites des créateurs de PROCESSING, Casey Reas et Ben Fry.
Le blog de Casey Reas : http://reas.com/blog/
Le blog de Ben Fry : http://benfry.com/writing/
Les livres sur PROCESSING
(avec notamment les exemples du livre « Processing: A Programming Handbook
for Visual Designers and Artists » à  télécharger en .zip) :
http://processing.org/learning/books/
Le forum PROCESSING.
Ce forum est l'incontournable lieu à  fréquenter pour trouver réponse à  de nombreuses questions générales ou pointues.
http://www.processing.org/discourse/
Douglas Edric Stanley.
En français, il faut souligner le site de Douglas Edric Stanley, professeur à Aix-en-Provence, une ressource excellente, particulièrement riche et amusante à consulter.
Le site : http://www.ecole-art-aix.fr/rubrique.php?id_rubrique=81
Le blog de Douglas Edric Stanley : http://www.abstractmachine.net/blog/
Toxi (Karsten Schmidt).
Un travail époustouflant !
Son nouvel espace de publication : http://postspectacular.com/
Son Flickr : http://www.flickr.com/photos/toxi/
Son précédent blog : http://toxi.co.uk/blog/
Sa page PROCESSING sur son ancien site : http://toxi.co.uk/p5/
Voir aussi une interview ici :
http://www.multimedialab.be/blog/?p=1047
Marius Watz :
Informations généreuses, orientées graphisme.
Son blog CODE & FORM : http://workshop.evolutionzone.com/
Ses projets : http://www.unlekker.net/
Son Flickr : http://flickr.com/photos/watz/
Les exemples à  télécharger du livre « Processing:Creative Coding and Computational Art » édité chez Friends of Ed.
http://www.friendsofed.com/download.html?isbn=159059617X
Pascal Chirol.
A noter également ce très intéressant site, découvert récemment :
http://updatepixels.net/